If You Love Dogs, You Won't Want to Miss This!
Imagine opening your home to dozens of abused, abandoned, starving, and death-row dogs and inviting them to live in the comfort of your home. All of them. . .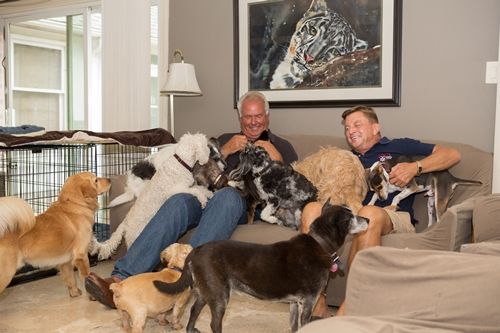 It sounds like a fairy tale, but this is the true-life story documented in Life in the Doghouse, a film about two amazing men who are sharing their own home with hosts of hopeless and hapless dogs who might otherwise have faced a futile future. These canine angels are Danny Robertshaw and Ron Danta, and their sanctuary is known as Danny & Ron's Rescue. To-date, they've saved more than 11,000 dogs. "Seeing their faces and knowing they're going to die drives me harder to want to save more, says Ron.
I'll be hosting a special screening of Life in the Doghouse for clients, friends, and members of the community, and I'd love for you (and your family and friends) to be my guests. Showtime is Sunday afternoon, March 24th, at The Strand Theatre in Clinton. Doors open at 1:00pm and the movie starts at 2:00pm.
In addition to saving dogs in desperate circumstances, Danny and Ron also provide food and medical care for 40+ dogs who have loving homes with elderly people who can't afford to support them. And in that regard, their mission mirrors the work of a wonderful local volunteer organization, Phinney's Friends, which helps low-income people in Massachusetts keep their pets when their circumstances have become too challenging.
I'm a big fan of the work they do, and hope that everyone who comes to see Life in the Doghouse will come away with a newfound appreciation for Phinney's Friends' quiet, caring efforts on behalf of the often-invisible people and animals who desperately need their help, and perhaps, be moved to make a contribution at the event. Volunteers from Phinney's Friends will be on hand to answer questions about their mission, and to gratefully accept whatever support you might like to offer.
Please text (978-502-5800) or email me to let me know you'll be able to join us!

"I really don't know of any other rescues that just let dogs live in their house, like we do. When they come into our rescue, this is their safe haven."