Bolton Market Report for November 20, 2019
As we approach Thanksgiving, the real estate market in Bolton remains healthy, although sales and offers are coming at a slower pace right now.
According to Altos Research, Bolton is still clinging to a Seller's Market, but if you read between the lines, you can start to perceive the start of a modest slowdown. The number of homes with price reductions has risen to 52% this week (up from 43% last week), and the "days on market" until offers has climbed slightly, to 155. Buyers are still out there, but there isn't the same sense of urgency that we've seen previously.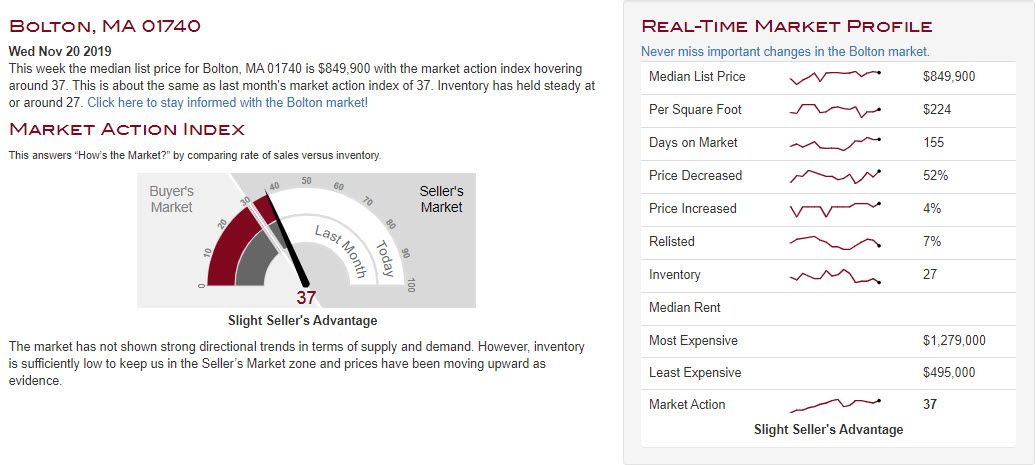 There are currently 30 homes on the market in Bolton (one of them has a contingent offer, so let's say 29). One of them, 83 Quaker Lane, listed at $429,900, had gone under contract on November 9th; it reappeared as "back on market" on November 18th. The current average list price is $806,473, down slightly from last week. Only one home made its debut during the last seven days:
4-bedroom Colonial (2012) on 1.1 acres
Listed at: $997,500
Price per Square Foot: $259 (excluding finished space in lower level)
What's selling in Bolton now? There are 15 homes currently pending, priced from $399,900 to $999,000, for an average of $678,540, somewhat higher than last week's average. Only one home, 33 Wheeler Road, listed at $610,000, went under contract last week. Originally listed at $675,000, it took five price reductions and 85 days to get there, after having been under agreement twice before. Let's watch this one to see if the deal holds together this time.
There were no closings in Bolton within the last week.
What we did see were two price reductions:
32 Frye Road, a 5-bedroom contemporary on 6 acres thas has been on the market for 51 days. Originally listed at $704,500, it's now at $675,900 after two cuts.
423 Harvard Road, a 5-year-old, 4-bedroom colonial on 1.8 acres that has been on the market for 98 days. Originally listed at $1,000,000, it's now at $975,000.
Selling Your Home in Bolton?
Request a confidential report of your current home's value.
Get Home Value