Bolton Market Report for December 4, 2019
As we dig out from the first major snowstorm of the winter, the real estate market is still showing surprisingly strong signs of life.
According to Altos Research, the Sellers' Market in Bolton has actually strengthened in the last week, busting the notion that everything stops around the holidays. The number of homes with price reductions has fallen to 39% this week, and the "days on market" until offers has fallen slightly, to 146. It's not what the conventional wisdom would have predicted in the week after Thanksgiving.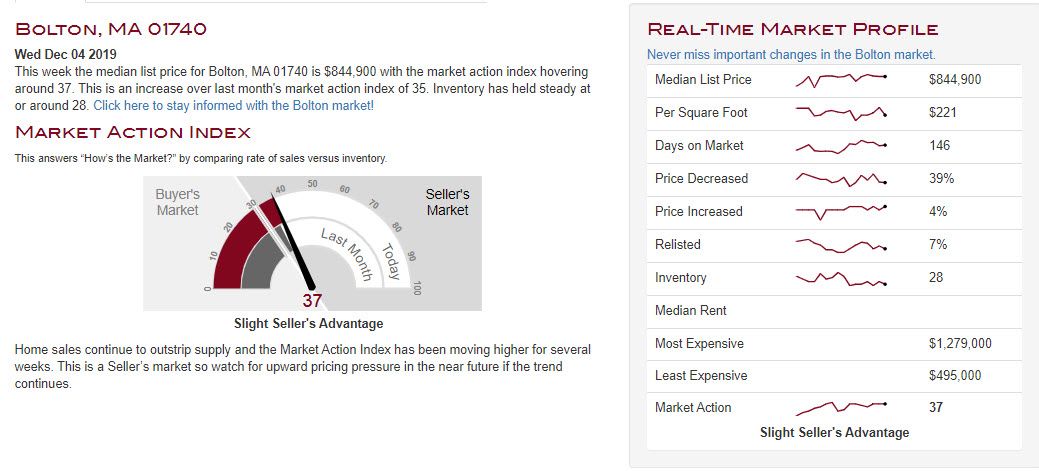 There are currently 24 homes on the market in Bolton (one of them has a contingent offer, so let's say 23). The current average list price is $845,446, up slightly from the last two weeks. Ten of them (almost half) are priced at $900,000 or more. Consider that during the last six months, only three homes have sold in Bolton at this elevated price point.
In spite of the relative lack of inventory, there haven't been any new listings in Bolton during the last two weeks. If you're thinking of selling, there's a great opportunity here.
What's selling in Bolton now? There are currently 16 homes under agreement, priced from $399,900 to $999,000, for an average of $650,856, a bit lower than in weeks past.
Only one home, a 3-bedroom colonial at 325 Ballville Road, went under agreement in the last week. Listed at $599,900 on November 20th, it was under contract within seven days.
Four homes sold in Bolton during the last two weeks:
78 Old Harvard Road, a 3-bedroom ranch that had been on the market for 109 days. Originally listed last July for $489,890, it took four price reductions, and an ultimate listing price of $403,200 to attract a cash offer. It sold for $393,000.
216 Berlin Road, a 4-bedroom colonial that had originally listed for $739,900 in early August. It was reduced to $699,000 a few weeks later and sold for $692,500 on November 22nd.
303 Wattaquadock Hill Road, a 5-bedroom colonial that was originally listed for $940,000 back in February. After four price reductions and 227 days on the market, it sold for $825,000 on November 21st.
156 Oak Trail, a 5-year-old, 4-bedroom colonial originally listed at $1.1 million in March, sold for $895,000 on December 2, after bouncing on and off the market for several months. Interestingly, within a day of the sale, this home popped right back on the market as a $4500/month rental.
Selling Your Home in Bolton?
Request a confidential report of your current home's value.
Get Home Value