Your Front Foyer Sets the Tone
Whether you've got an open, expansive entryway, or just a narrow landing, your foyer will be the first space buyers see when they walk through your door, so it should feel welcoming, inviting, and easily accessible. Keep in mind that your entrance hall sets the tone for what buyers can expect in the rest of the house. A messy mélange of stuff can be suffocating, and won't inspire visitors to want to venture further. You'll literally lose them at "Hello."
Too often, we tend to use our front halls as dumping grounds for shoes, boots, or delivered packages we haven't yet had a chance to unbox. Or we clutter them with coat racks, artificial flower arrangements, and oversized plants or pieces of furniture that are so large as to impinge on a visitor's ability to actually walk into the home. If that sounds like your place, here are some things you can do before you list.
First, you'll want to whisk away virtually everything that blocks or overwhelms visiting buyers' eyes when they enter your home, forcing them to pause to evade obstacles before they can get to other rooms. It's okay to have a small, clean welcome mat, but if it's old or ragged, by all means, replace it with a nice new one before you invite buyers in for a tour.
To draw visitors in, it's nice to place a small table with a vase of bright, fresh flowers directly in the front door's line of sight. If the hallway is dark, add a tasteful but not overly ornate mirror above the table, to reflect and magnify light from the door and windows on the opposite site of the hall. Make sure overhead light fixtures are sparkling clean, and bump up the wattage on the bulbs, to ensure that the entry has feeling of spaciousness and light.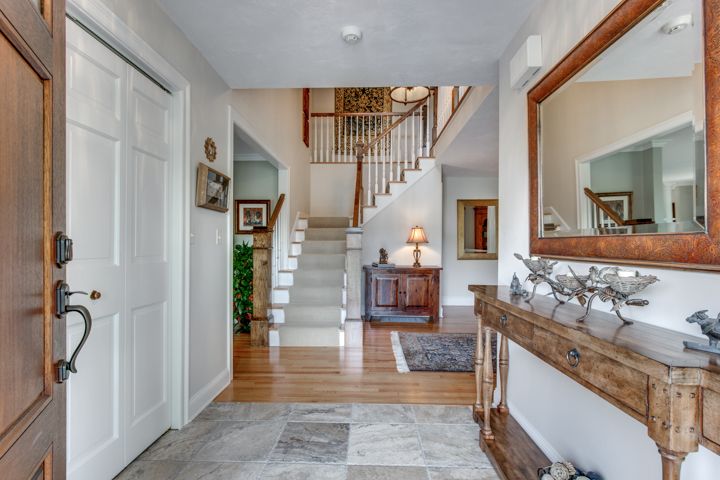 You'll face a different set of issues if your front door opens directly into a room, with barely a few inches between the edge of the door and the staircase to the second floor. If that's the case, consider having buyers enter through a secondary door, and treat that space the same way you would the main foyer, with an eye toward creating a clean, clear, and uncluttered line of sight.
Interested in more home staging tips? You're in luck! I'll be hosting a free "Home Staging Secrets" seminar at my office in Bolton on Saturday, February 4th. Click here to register!