What's Up with the Harvard Market on 11/6/2017?
It's been quite a week for the real estate market in Harvard.
After more than 500 days on the market, the 16-acre equestrian estate at 199 Still River Road closed on October 31st for $1.96 million, the highest price for any home sold in Harvard this year by more than $500,000.
More moderately priced new offerings were being briskly snapped up by eager buyers who have been trying to get into Harvard but have been challenged by the dearth of inventory in affordable ranges. Five homes went under agreement in just the last eight days alone. They ranged from an under-$300,000 foreclosure--a rarity in Harvard--to a traditional colonial at 17 Simon Atherton Row in the always popular Shaker Hills, listed at $670,000.
Of particular interest was a charming antique colonial at 5 Oak Hill Road, on the edge of the town's vibrant center. Listed at $500,000 on October 25th with the proviso that all offers were due by the end of the month, this property promptly went under agreement on November 1st, presumably with multiple bidders.
According to Altos Research, Harvard is tilting slightly toward a buyers' market, but it sure doesn't feel that way. Almost half (24) of the 49 sales since the beginning of the year have been for homes sold between $500,000 to $700,000, yet there are only six such offerings available today, signaling a sweet opportunity for wanna-be sellers in that desirable range.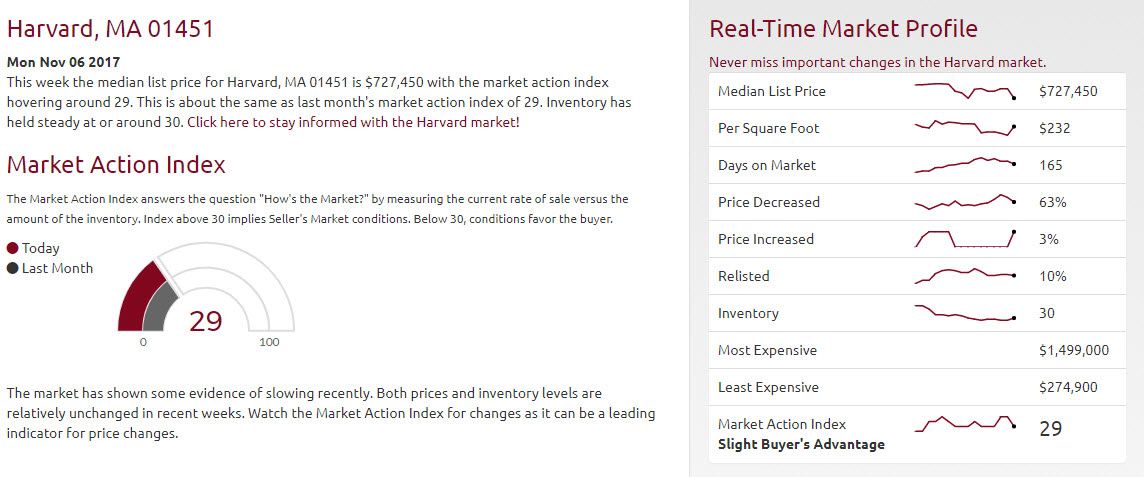 The market seems to be heavily weighted on the slower-moving high end, with 11 of the 27 homes currently on the market priced over $800,000, in spite of the fact that at $727,450, the town's median price has dipped slightly from last month. The newest and highest-priced offering is a 15-acre contemporary at 129 Ayer Road, listed at $1,499,000.