Monday Morning Memo for October 1, 2018
Here's a story that seems too magical to be true. . .but it is.
I listed a gorgeous contemporary home on the banks of tranquil Snow Pond in Princeton in early June. We'd had a flurry of showings, and even a very low offer in the first days after this unique home appeared on the market, but then, as can happen, activity lagged off by the time late summer arrived.
I had a hunch that things would pick up right after Labor Day, but I never expected what happened next. During the week after the holiday, we suddenly received a new offer from the same buyers who had made a low bid a few months earlier. They hadn't come back for another showing or signaled to us that they were still interested, so the sellers and I were a bit taken aback. This happened on a Tuesday, and by Wednesday, the parties had come to an agreement on price and closing date--we were suddenly under contract!
What I didn't know until later was the backstory. After the ink on the offer was dry, one of the sellers sent me this note:
"I called upon Saint Joseph on Monday for help, and buried his statue in the backyard. I will retrieve his statue when the deal is done and we are about to move. I am not Catholic but accept help from all sources."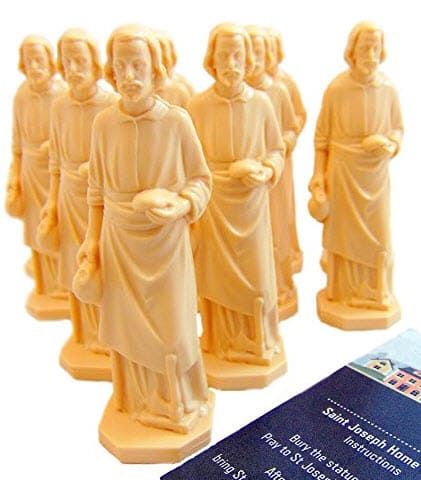 I had no idea she'd done that!
This past weekend, Princeton held a town-wide yard sale, with maps to the potential treasures in homeowners' front yards. Another one of my Princeton clients visited the sale held by the waterfront sellers, and swapped stories with them about the vagaries of having one's home on the market, and how challenging that can be. Upon realizing who my client was, my waterfront seller promptly gifted her the same St. Joseph statue that had worked so well for her:
"She planted it in her yard upside down and said the prayer. One day later, her house went under agreement. My husband has now planted the statue in our yard and said the prayer. In their case, it happened fast, and they weren't quite prepared--they thought it would take a year to sell."
These sellers are hoping that it won't take that long to sell their home, and so am I. I'll let you know what happens next!